Crescent Systems, Inc. just got awarded a patent on Magna Check
Our new in line rate checking device is simple, economical, and easy to use.  Just put this in between two conveyors and it will check production rate from Infeed Conveyor and discharge it on to the Discharge Conveyor.  it may be used in conjunction with our Magna Weigh, to correct its rate, or on any line to determine and correct feed rate, by weight.  Please see our brochure on Brochures page to get more details.
We at Crescent work continuously to enhance our existing systems and come up with new and innovative ones for offering state of the art equipment to our customers.
Crescent Systems, Inc. will be at the NW Food Processors Expo & Conference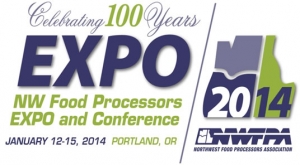 January 13-15, 2014
Oregon Convention Center
777 Martin Luther King Blvd., Portland, OR 97232
The NW Food Processors Expo & Conference is the largest regional food manufacturing tradeshow in North America. Expo is the place to be to gain valuable ideas and insights from face-to-face contact with representatives from the world's leading equipment and service providers. Use this exclusive Food Processor VIP Pass provided by Crescent Systems, Inc. to gain access to the Expo show floor at no charge.