We have excellent electrical controls design and fabrication facilities.  Control systems conform to NEC and other codes in force where the systems are to be installed.  We have qualified programmers and panel builders who are well familiar with the requirements in the food processing plants.  Our panels are UL listed.
We have programming software for most popular PLCs and OITs.  All panels, after fabrication, are tested with actual sensors and field components as much as possible.
Pre-wiring of equipment, installation of J-Boxes and local disconnect switches minimizes field installation and start-up time.
In addition to building panels for our own equipment, we have capabilities to build panels per customer requirements to control systems not manufactured by us.  We also interface with customer equipment, as required.  We offer start-up and training assistance.

PLC with OIT
PLC Panel

Custom Labels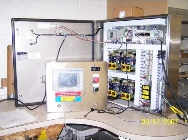 Panel Programming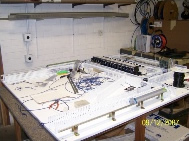 Panel Fabrication